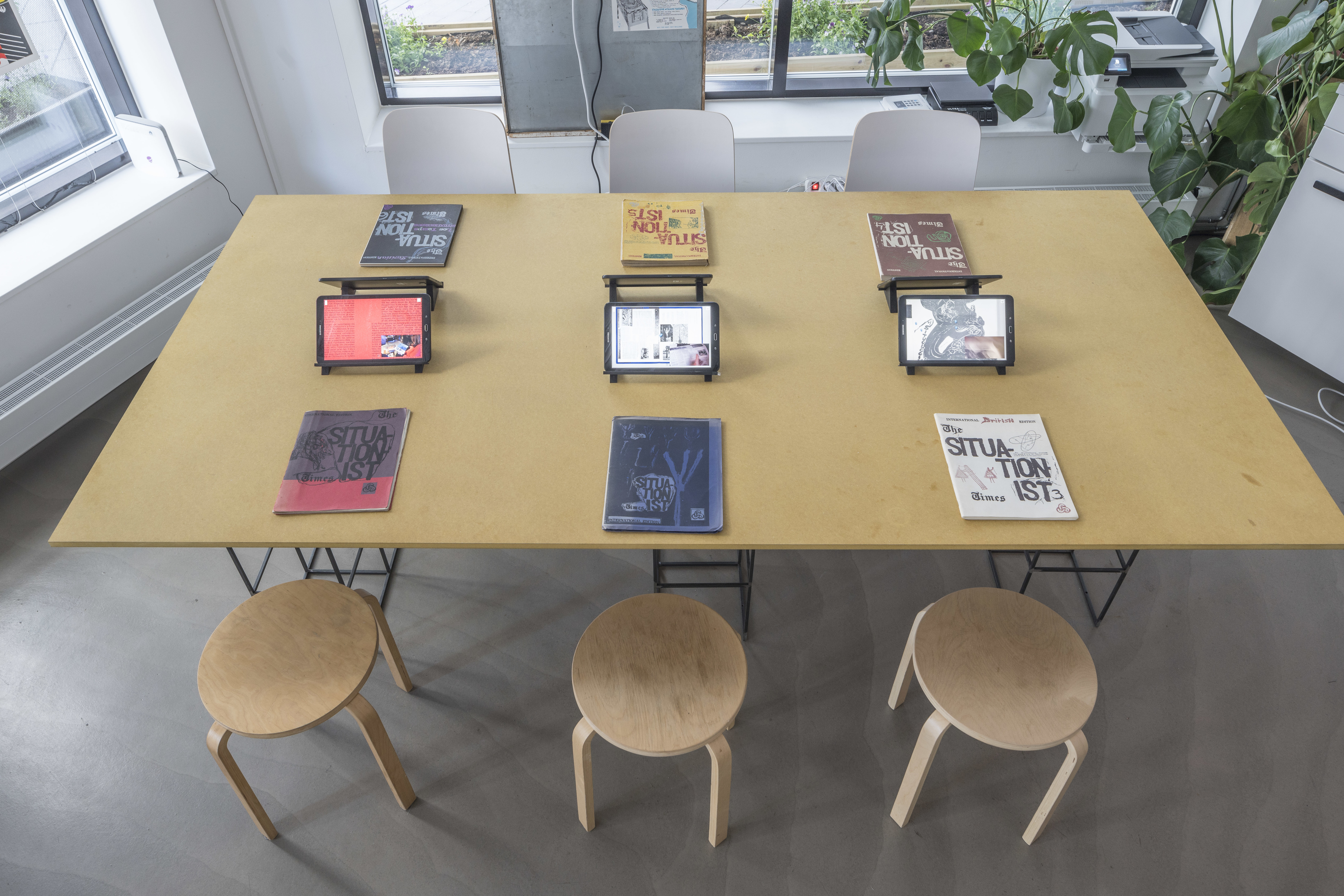 The Situationist Times
, edited by the Dutch artist Jacqueline de Jong, was published in six issues in the years 1962–1967. In a 1961 meeting of its central committee, the Internationale Situationniste decided to make an English language magazine and gave de Jong the task of editing it. However, by the time the first issue appeared in 1962, de Jong had left the IS and transformed the original project beyond recognition. In its multilingual, trans-disciplinary and cross-cultural exuberance, the Situationist Times became one of the most exciting and playful magazines of the 1960s.
order
The Situationist Times: Same Player Shoots Again!
International Tilt Exhibition
May 11 - September 2, 2018
Torpedo/ PUB Rostockgata 28, Oslo

The exhibition is curated by Ellef Prestsæter and Torpedo and produced in collaboration with Malmö Konsthall and Museum Jorn. It forms part of These are Situationist Times, an exhibition, digitization and publication project developed by Torpedo (Oslo) and Ellef Prestsæter, in close collaboration with Jacqueline de Jong and generously supported by Nordic Culture Point, the Norwegian Arts Council and Mondriaan Fund. The Jacqueline de Jong Papers, including the archives of the Situationist Times, is held at Beinecke Rare Books and Manuscripts Library, Yale University. Photography by Øivind Möller Bakken.
The Situationist Times: Same Player Shoots Again! unfolds the material assembled by de Jong and her co-editor Hans Brinkman in the early 1970s for a seventh, unrealized issue devoted to pinball. The documents – presented to the public for the first time – testify to an extensive investigation of the culture and topology of pinball – arguably the quintessential situationist game. In collaboration with Koosje Ruigrok, Jacqueline de Jong produced a special pinball wallpaper for the exhibition. The show also featured a free-play electro-mechanical pinball machine by courtesy of Oslo Pinball Club.

Additionally, the exhibition provides a rare opportunity to browse original copies of the Situationist Times 1-6. A digital interface developed by the Scandinavian Institute for Computational Vandalism invites you to navigate the riches of the magazine, its labyrinths, knots and controversies, as well as browse through the issues together with de Jong, who tells stories of their making in a series of newly produced video clips.